Want to make breakfast for Mom this Mother's Day? I combined two classics, Banana Bread and Scones, to create Banana Bread Scones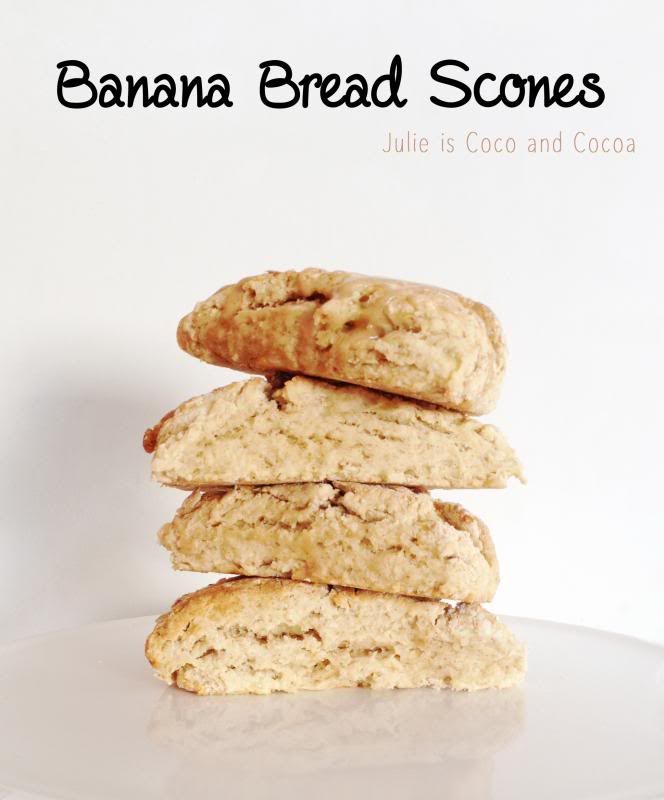 Treating Mom to breakfast is a fairly common part of many Mother's Day celebrations. Breakfast is perhaps my favorite meal. Or at least, many of my favorite foods are generally classified as breakfast foods. Waffles, French Toast, muffins, and scones to name a few.
I started thinking about what breakfast food I could make my Mom for Mother's Day. It needed to be something I could transport which made waffles and crepes less than ideal. And then an over-ripe banana on my counter proved to be the inspiration for this creation.
My Mom really likes the pumpkin scones that I make every fall. I decided to try swapping out the pumpkin for a banana and adjusting some of the spices to come up with this banana bread scones recipe.
The result? Delicious.
Bake your banana bread scones and then wrap them up for delivery. Of course, make sure to make a couple for yourself as well! 
Banana Bread Scones
Ingredients
2 C. all purpose flour
1 1/2 t. baking powder
1/2 t. salt
3/4 t. ground cinnamon
3/4 t. ground nutmeg
6 T. unsalted butter
1 banana, mashed
1/3 C. heavy cream
6 T. brown sugar
1 t. vanilla
 Directions
 Preheat oven to 425 degrees.
Combine flour, baking powder, salt, cinnamon, and nutmeg. Whisk together.
In a separate bowl, combine banana, heavy cream, brown sugar, and vanilla. Whisk together well.
Cut cold butter into pieces and drop them into the flour mixture. Cut the butter into the flour using a pastry blender (or two knives) until resembles coarse crumbs.
Pour the banana mixture into the flour mixture. Stir until it is just moistened. The dough will be very crumbly.
Turn the mixture out onto the counter and knead it until everything is together. But don't knead it too much or the dough will get too sticky.
Pat the dough out into a rough circle, 3/4 to 1 inch thick. Cut it into 8 pieces. Place pieces on the baking sheet and make sure they are not touching.
Bake scones for about 15 minutes at 425 degrees. They should be light brown on the bottom.
Cinnamon icing: Mix together 1 C. powdered sugar, 2 T. milk, 1/4 – 1/2 t. cinnamon. Drizzle or brush on the icing.